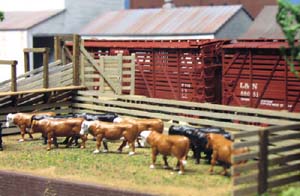 Sandy Ford Jct.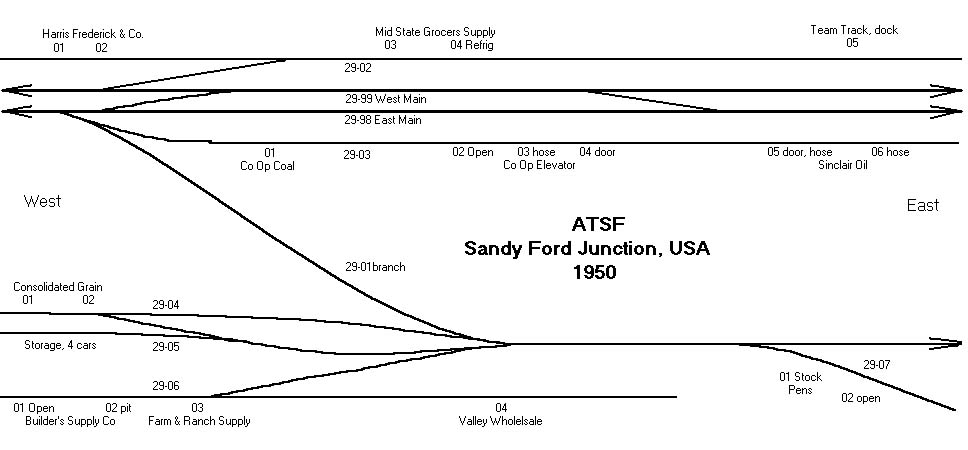 I have numbered the tracks and spots as if this were a CLIC book for the Santa Fe. Names are linked to photos of the industries described.
Track descriptions.
Tracks 29-98 and 29-99 are the double main through Sandy Ford. The Depot is located just East of our module.
Track 29-02 serves three industries.
Harris Frederick & Co. is an industrial supplier to the steel fabricating and oilfield industries. They receive pipe, pumps, steel members, fabrication machinery, and supplies. Most of their loads come from the east. They rarely have any outbound freight.
Mid-State Grocery Supply is the main importer of food for this area. They receive all sorts of packaged and fresh food. Reefers should be spotted at door 04 unless two reefers are present at a time. They ship nothing outbound. They receive shipments from east and west.
Team Track / Ramp is available for anyone. Harris Frederick unloads their pipe here. Farm & Ranch receive their tractors and heavy accessories here. Most incoming industrial products come from the east. Outbound loads include hay and logs.
Track 29-03 serves two customers.
The Co Op coal storage bin is spot 01. Only 3-4 gondolas of coal are needed each year, coming from eastern roads.
Elevator spots 02-04 serve outgoing wheat. Incoming fertilizer should be spotted at door 03 as should outgoing bagged wheat. Their loads usually head east.
Sinclair Oil has spots 05 and 06. Boxcars of barrel petroleum products should spot at 04. Tankers can be spotted at 04 or 05 and served by hoses. Most of their loads come from the west.
Track 29-04 serves Consolidated Grain. In off-season, their spur also assists as a runaround track. Its loads usually head east.
Track 29-05 is a holding track. When inbound loads cannot be spotted, they can be left here. When a train going in an opposite direction needs to remove an empty to spot a load, it can place the empty here for a future train to pick up. It also serves as an interchange track with the branch line.
Track 29-06 serves three customers.
Spots 01 and 02 serve Plains Building Supply. Spot 01 is for unloading box and flat cars while 02 has an under track hopper for aggregate. Most building supplies come from the west. Nails and metal goods come from the east.
Spot 03 is for Farm and Ranch Supply. They bring in feed, seed and fertilizer in competition with the Co Op. They also receive barbed wire, farm implements (through the ramp on 29-02), and fence poles. Their manufactured good come from the east, with most other items coming from the west.
Valley Wholesale is the major provider of hardware, furniture, appliances, and clothing for this area. Most of these products come from the east.
Track 29-07 serves the stock pens. Cattle from this area usually ship east but may arrive from either direction. Occasional gondolas of sand are brought in for bedding.
Track 29-01 gives the Junction its name, as this track leads to several farm communities down the track. Sometimes cars for a distant town are left in yard track 29-05 for a future train to pick up.
All turnouts on this layout are hand laid and manually operated with springs to hold the points to one side or the other. Track is a combination of hand laid and flex. All is code 100. The module is built to modular standards sos that it could be used in a modular club if I so desired... but to date have not.
To see how they all relate, click for the Left, Center, or Right portion of the layout.